Traditional Marketing
For years, traditional marketing was the only method available for real estate agents to market and sell your home. Though times have changed, technology has evolved and marketing strategies have taking many turns, the core principles of marketing a home remain relevant.
Below are the core principles that we will leverage to market your home. These key elements are essential to the success of our Online Marketing approach and are the building blocks of what sets The Orlando Metro Realty Team apart from the rest. We understand that these core principles are the foundation of our overall marketing approach.

Staging Assistance – If need be, we can provide assistance in staging your home to prepare it for the market.

Photography – Professional pictures will be taken of your staged home to create an appealing flyer to promote your home.
Promote Property – List Property on Multiple Listing Service, provide attractive yard sign, create customized brochures/postcards to promote property, and local advertising.
Open Houses – We will hold an open house to generate qualified buyers.
Broker Network – With our wide network of real estate agents, we will be able to spread the word about your home instantly to thousands of agents who may have qualified buyers.
Networking – We are members of several groups and affiliations, which allows us to "touch" business owners, investors, community leaders, and more qualified buyers.
Next, Online Marketing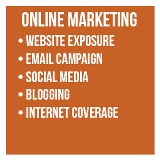 Contact Us
today to setup an appointment with The Orlando Metro Realty Team to see how we can help!
You may also be interested in: